Senior Games athletes demonstrate seven dimensions of wellness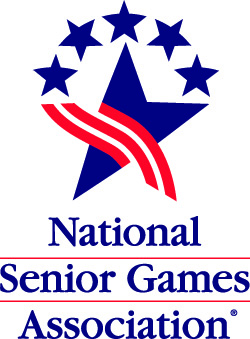 Active Aging promotes the vision of all individuals—regardless of age, socioeconomic status or health—fully engaging in life within seven dimensions of wellness: emotional, environmental, intellectual/cognitive, physical, professional/vocational, social and spiritual."
To illustrate, below are National Senior Games athlete features from our archives that each highlight one of the seven dimensions, one for each day of Active Aging Week. Enjoy!
Emotional – October 5
Pickleball Therapy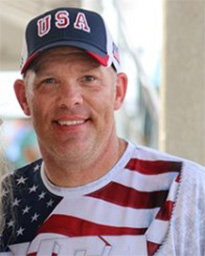 Featured as a 2019 Athlete of the Month and Hand Up From Humana scholarship recipient that helped Kory attend the 2019 National Senior Games presented by Humana. This Gulf War veteran, now 53, found that playing pickleball and the social support from other players has helped him manage the effects of PTSD.
More details
Environmental – October 6
Of Mentors, Mountains, and Marathons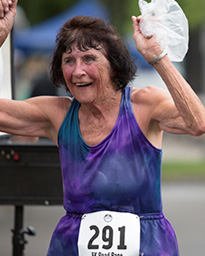 This 2015 Personal Best feature never grows old, and apparently neither does Della. Now 85, she lives on the side of a mountain in Casper, WY and learned to love nature from her now-deceased husband. She has since climbed many of the "14er" peaks in the Rockies and has completed marathons on four continents – including Antarctica.
More details
Intellectual/cognitive – October 7
The Art (and Science) of a Successful Life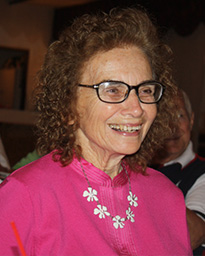 Leurenne was recognized with a 2013 Personal Best feature and has also been selected as a Humana Game Changer feature athlete. She is a pioneer as the first female to head a research department for Goodyear. Since retirement, the now 89-year-old splits time between her farm in Ohio and a winter place in Tampa Bay, Florida. She has since become a well-known ambassador for Senior Games and for the sport of Pickleball. Leurene takes a scientific approach to everything, including how to learn and safely compete in sports.
More details
Physical – October 8
Going Great Lengths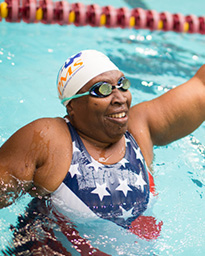 Now 82, Vivian has become one of the most popular athletes at National Senior Games for her example of overcoming physical challenges with grace. Vivian was 19 and a single mother when she became blind. She persevered to get a degree and taught school for her career. Vivian took up swimming to beat morbid obesity in midlife, lost 80 pounds and never looked back when she found Senior Games. Vivian is a 2014 Personal Best feature athlete and has also been names a Humana Game Changer.
More details
Professional/vocational – October 9
Badminton Straight From the Source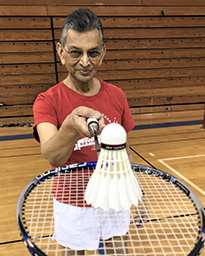 Our 2018 Athlete of the Month feature athlete was born in the town in India where the sport of Badminton was invented. Kamal came to the U.S. for college and earned his citizenship. His story is appropriate because Kamal still works as a structural engineer at the age of 86, and he has no plans to retire!
More details
Social – October 10
Family Matters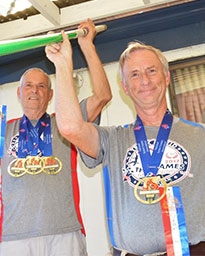 Chuck and Phil Milliman are father and son Gold medal winning pole vaulters in Senior Games. At 84, Chuck was the oldest leaper at the 2019 National Senior Games presented by Humana in Albuquerque. While it was Phil who got Dad into the sport, it is Chuck's emphasis on fitness and family that has energized many to pursue fun activities. Chuck is also a pastor, so he has motivated his church family to keep active too!
More details
Spiritual – October 11
Spirited Competitor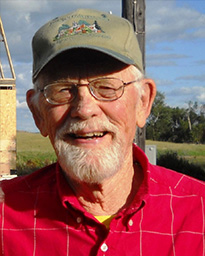 This spry 93-year-old is one of only seven athletes to have competed in every National Senior Games since they were first held in 1987. He now plays Table Tennis and Shuffleboard and loves playing partners with his wife. His life's work has been as a devoted minister, and in this 2017 Personal Best feature he speaks about how faith applies to his fitness and love of playing sports.
More details
Selected daily videos from the 2019 National Senior Games presented by Humana
Enjoy the best highlights from The Games held last year in Albuquerque, which represented the largest qualified multisport event ever held for any age competition. Below are six daily recaps and our official highlights video that captures the spirit exhibited in The Land of Enchantment.
National Senior Games defies ageism stereotypes and demonstrates the benefits of pursuing healthier and more active lifestyles for life.
About NSGA
The National Senior Games Association (NSGA) is a nonprofit Multisport Council member of the United States Olympic Paralympic Committee that promotes health and wellness for adults 50 and over through education, fitness and sport. NSGA governs the biennial National Senior Games, the largest multi-sport championship event in the world for seniors.
The Association is comprised of 53 independent Member Games that conduct qualifying competition events, and the 2021 National Senior Games presented by Humana will be held November 5-18 in Greater Fort Lauderdale.
For more information, please visit NSGA.com