National Senior Games Association (NSGA)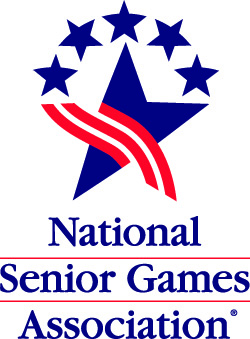 Active Aging promotes the vision of all individuals—regardless of age, socioeconomic status or health—fully engaging in life within seven dimensions of wellness: emotional, environmental, intellectual/cognitive, physical, professional/vocational, social and spiritual."
To illustrate these dimensions, NSGA offers athlete/feature from our story archives that each highlight one of the seven dimensions, one for each day of Active Aging Week. Enjoy!
Emotional – October 3
Games Provide Pathway Through Midlife Challenges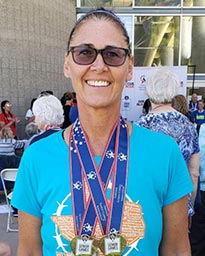 Featured as a 2021 Athlete of the Month, De Shann fought to overcome the loss of her parents and uncertainty by creating midlife opportunity with sports. She is enjoyed great health and loves her new direction so much that De Shann is now the State Coordinator for the Wyoming Senior Olympics.
QUESTION: What coping strategies do you use to work with emotions generated from age related stereotypes or ageism?
Cope with challenging emotions related to ageism through peer counseling, stress management, humor/laughter and stories of overcoming.
More details
Environmental – October 4
Of Mentors, Mountains, and Marathons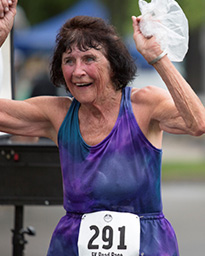 This 2015 Personal Best feature never grows old, and appartently neither does Della. Now 85, she lives oon the side of a mountain in Casper, WY and learned to love nature from her now-deceased husband. She has since climbed many of the "14er" peaks in the Rockies and has completed marathons on four continents – including Antarctica.
QUESTION: How often do you take time to intentionally connect with the natural environment?
Connect with the natural environment by taking in urban parks, walking paths, forest bathing and community gardens.
More details
Intellectual/cognitive – October 5
The Art (and Science) of a Successful Life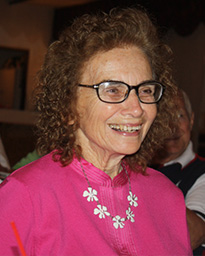 Leurenne was recognized with a 2013 Personal Best feature and has also been selected as a Humana Game Changer feature athlete. She is a pioneer as the first female to head a research department for Goodyear. Since retirement, the now 89-year-old splits time between her farm in Ohio and a winter place in Tampa Bay, Florida. She has since become a well-known ambassador for Senior Games and for the sport of Pickleball. Leurene takes a scientific approach to everything, including how to learn and safely compete in sports.
QUESTION: Do you participate in activities where you learn skills, hobbies, new points of view and information?
Challenging oneself with games and puzzles is a mentally stimulating, proven approach to keeping your brain healthy.
More details
Physical – October 6
Going Great Lengths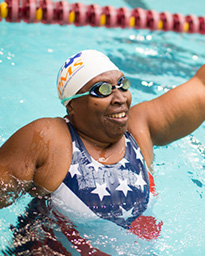 Now 82, Vivian has become one of the most popular athletes at National Senior Games for her example of overcoming physical challenges with grace. Vivian was 19 and a single mother when she became blind. She persevered to get a degree and taught school for her career. Vivian took up swimming to beat morbid obesity in midlife, lost 80 pounds and never looked back when she found Senior Games. Vivian is a 2014 Personal Best feature athlete and has also been names a Humana Game Changer.
QUESTION: What activities do you add into your activities of daily living that maintain your physical balance, flexibility and strength?
The goal of living independently is one shared by many people, and physical wellness is necessary to achieve this. Lifestyle sports participation can maintain or improve functional fitness. Get started by entering one of 52 state qualifying Senior Games which allows you to compete at National Senior Games.
More details
Professional/vocational – October 7
Irresistible Force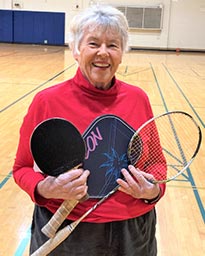 Alice Tym excelled in tennis at a time when females were discouraged from sport and was ranked #13 in the world in her prime. She started the women's tennis team at the University of Florida-as a student player- and went on to become a hall of fame college tennis coach. Now 80, Alice enjoys all racquet sports, especially pickleball, and still offers coaching tips to help others stay active.
QUESTION: What leisure time vocation are you ready to start within the next 30 days?
Leisure-time arts, crafts and hobbies extend our vocational lives. Moreover, older adults can contribute to society as experienced professionals, caregivers, mentors, teachers and volunteers.
More details
Social – October 8
Courting History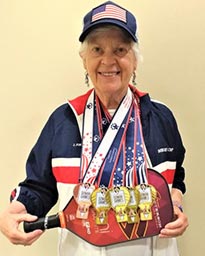 Joyce has always been a "people person" and she recognized the social benefits of playing sports early. The 92-year-old pickleball player has had a long Senior Games career, but also was instrumental in forming the Washington State Senior Games and convincing NSGA to add pickleball to the National Senior Games in 2013. She has influenced many people to also find social connections through playing sports.
QUESTION: Are you happy with your social connections and friendships?
Social interactions with family, friends, neighbors and chosen peer groups are valuable for maintaining health.
More details
Spiritual – October 9
Swimming's Spiritual Warrior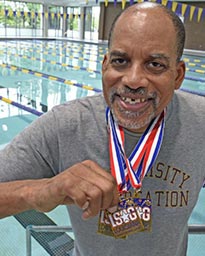 Herman's parents made sure he learned how to swim in a time when African Americans were denied access to pools. He went on to swim on the Morehouse College team and is still swimming in Senior Games at the age of 67. Herman is also a professor and a minister and has created a ministry to teach African-Americans how to swim.
QUESTION: Is the way you live your life consistent with your spirituality, core values and beliefs?
Practices that help you center yourself, renew your soul, and gain perspective is important to living with meaning and purpose in this life, the world and the universe.
More details
NATIONAL SENIOR GAMES SHOWCASE VIDEO
NSGA Recognizes the 50th Anniversary of Title IX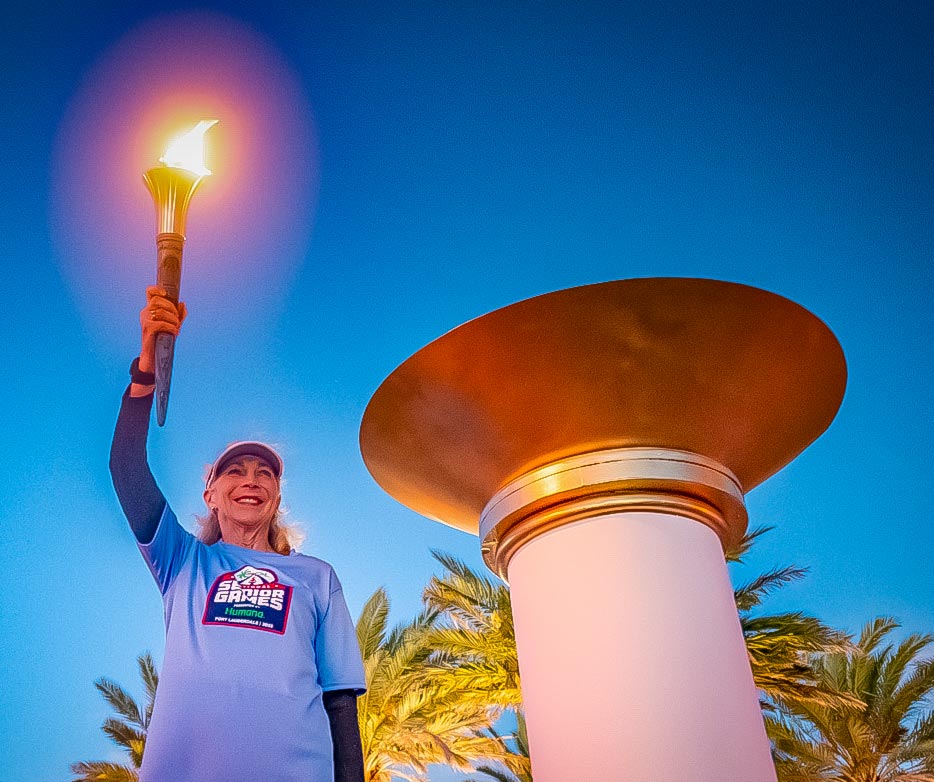 The Senior Games Movement has more women active in sport today who were denied the opportunity before passage of the landmark equality law in 1972. Early in 2022 NSGA hosted a livestream program with five National Senior Games female athletes talking about what it was like for them and how much they appreciate having the chance to play sports now.
Running legend Kathrine Switzer, who opened the door for women by officially running the 1968 Boston Marathon, was a featured athlete guest in the entertaining, informative and inspiring program. Follow the link to watch "Before Title IX: Tales of Senior Athletes."
About NSGA
The National Senior Games Association (NSGA) is a nonprofit Affiliated Organization Council member of the United States Olympic Paralympic Committee that promotes health and wellness for adults 50 and over through education, fitness and sport. NSGA governs the biennial National Senior Games, the largest multi-sport championship event in the world for seniors.
The Association is comprised of 52 independent Member Games that conduct qualifying competition events, and the 2022 National Senior Games presented by Humana will be held July 7-18 in Pittsburgh.
For more information, please visit NSGA.com