Move Your Way
Physical activity has important health benefits for older adults — but people may find it hard to stay active as they age. Move Your Way® the promotional campaign for the second edition of the Physical Activity Guidelines for Americans – has resources that can help your older adult audiences learn about the benefits and find activities that work for them.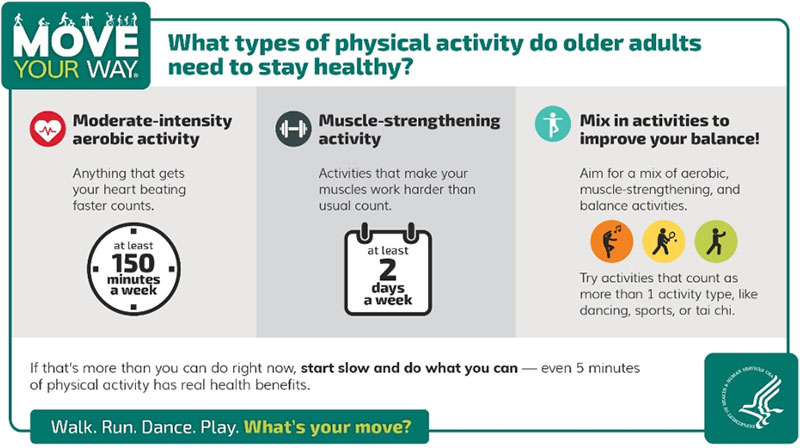 Follow these simple steps to start using Move Your Way to help older adults in your community get moving!
Get to know the Move Your Way campaign! Watch this video below to learn more about everything Move Your Way has to offer — and how to adapt it for your community.

Explore the Move Your Way Community Playbook. The Community Playbook offers tips and resources to help community organizations promote physical activity.
Download free Move Your Way campaign materials. Move Your Way offers over 80 easy-to-use tools and resources in both English and Spanish – including fact sheets, posters, videos, social media posts, and interactive tools. And check out the Move Your Way materials for older adults that explain the benefits of physical activity for healthy aging and tips to help older adults get moving.
Add a Move Your Way web badge or widget to your website! Add the code to your website to help people build a personalized weekly activity plan. Take the Move Your Way Activity Planner for a test drive and build your own physical activity plan!
If you have questions about using Move Your Way materials or want to create your own, please contact the Office of Disease Prevention and Health Promotion.

Move Your Way® and the Move Your Way logo are registered service marks of the U.S. Department of Health and Human Services.
Share