Good nutrition and hydration support older adults' immune health

The immune system is the body's defense against infections. Older adults naturally face declines in immune function as they age, but there are several ways to help. Some of these factors are the same as those that support active aging, including a healthy diet, appropriate hydration, regular exercise, adequate rest, good hygiene, and decreased stress.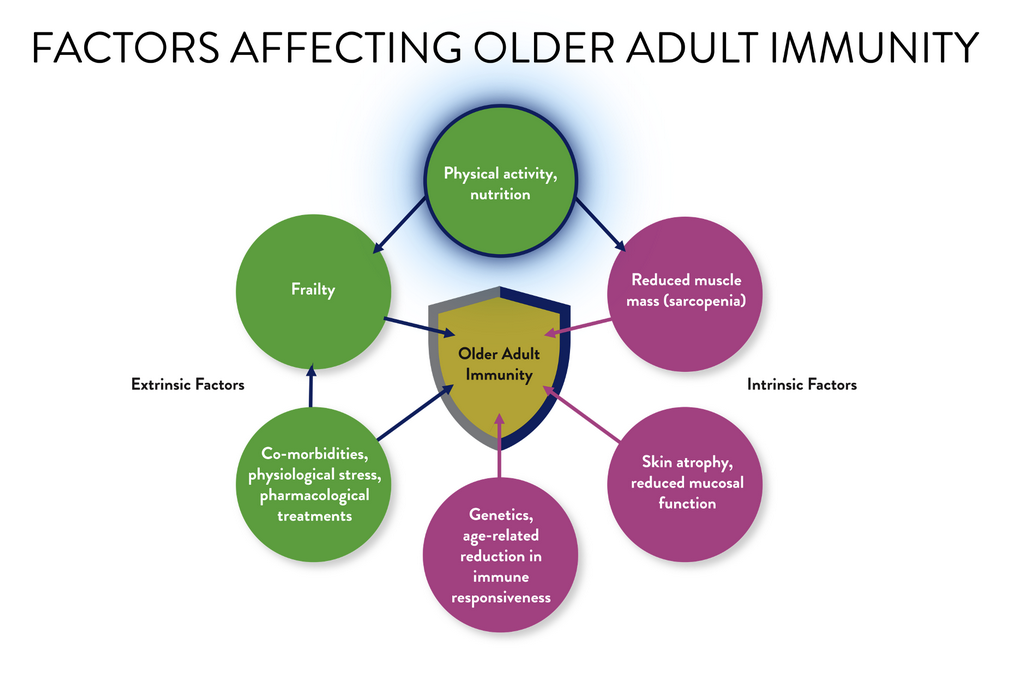 Adapted from Arensberg MB. Physical activity and good nutrition important vaccine response. International Council on Active Aging blog, 2/2021.1
What is a healthy diet for immune health?
Nutrition and immunity are interrelated, and poor nutrition is associated with decreased immune health2. By including key nutrients as part of a well-balanced diet, older adults can improve their nutrition and support their immune health3,4.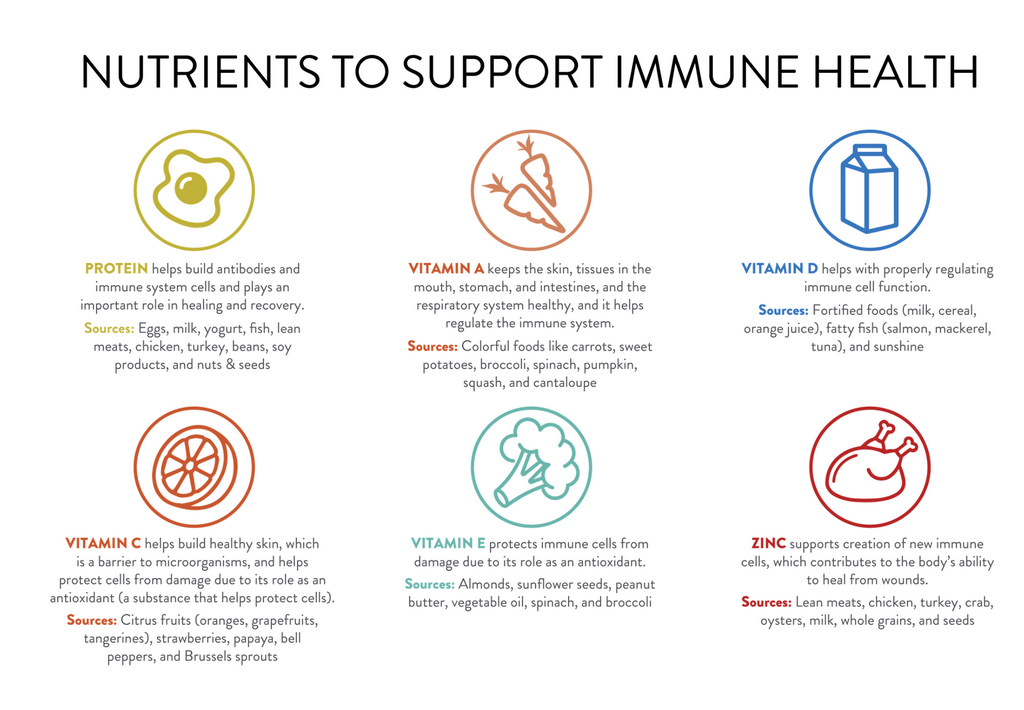 Older adults with poor food intake and/or chronic disease/acute health conditions may need extra support to help meet their nutrition needs. Oral nutrition supplements (ONS) can provide extra calories, protein, vitamins, and minerals to the diet and help support older adults' immune function. Encourage older adults to talk to their healthcare providers about the possibility of adding ONS to their diet.
Why is good hydration important for immune health?
Drinking enough fluid is also key for maintaining good immune health. Fluids help regulate body temperature and assist in eliminating bacteria and other harmful substances. The fluid in our bodies is made up of more than just water. It also contains electrolytes, which help balance the level of water in various parts of our bodies. Good nutrition goes hand in hand with hydration—people can get both water and electrolytes from food. In fact, food provides about 20% of the fluid in our bodies5. If someone doesn't get enough fluid or electrolytes, they can suffer from symptoms of dehydration because the body isn't able to balance the level of water needed.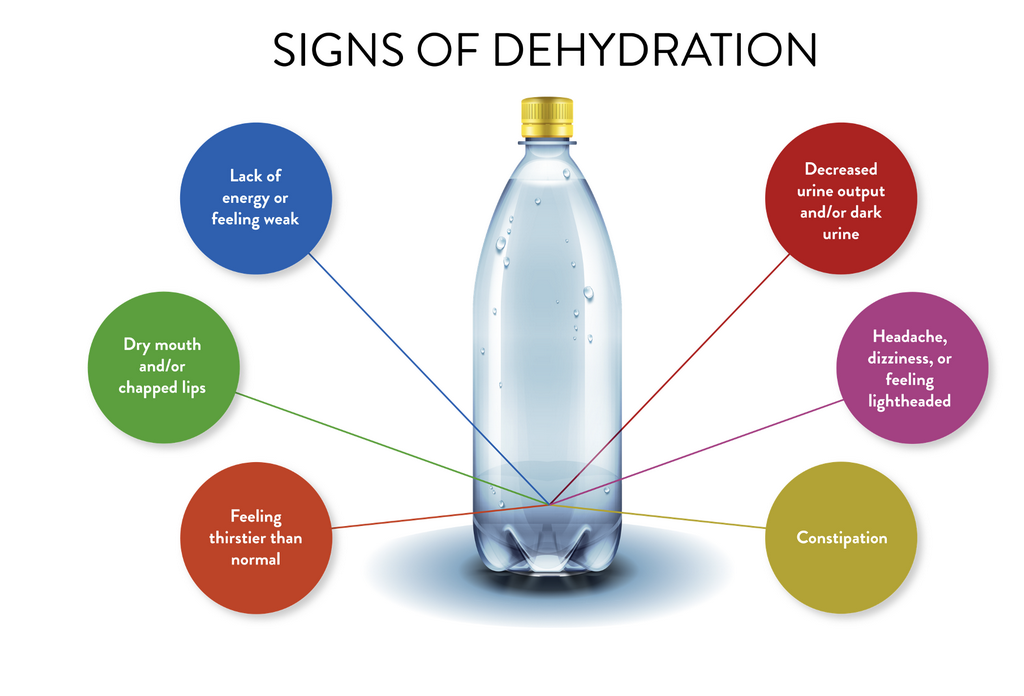 Older adults who need rehydrated quickly can drink an electrolyte replacement drink, also known as an oral rehydration solution. This will help to rapidly provide the fluid and electrolytes they need. To avoid dehydration, it is typically recommended that older adults drink at least 8 cups of water per day. However, older adults may need more or less than this recommendation. It is beneficial for older adults to discuss fluid recommendations with a healthcare professional, and if they are struggling to meet their hydration needs, there are some simple tips to help.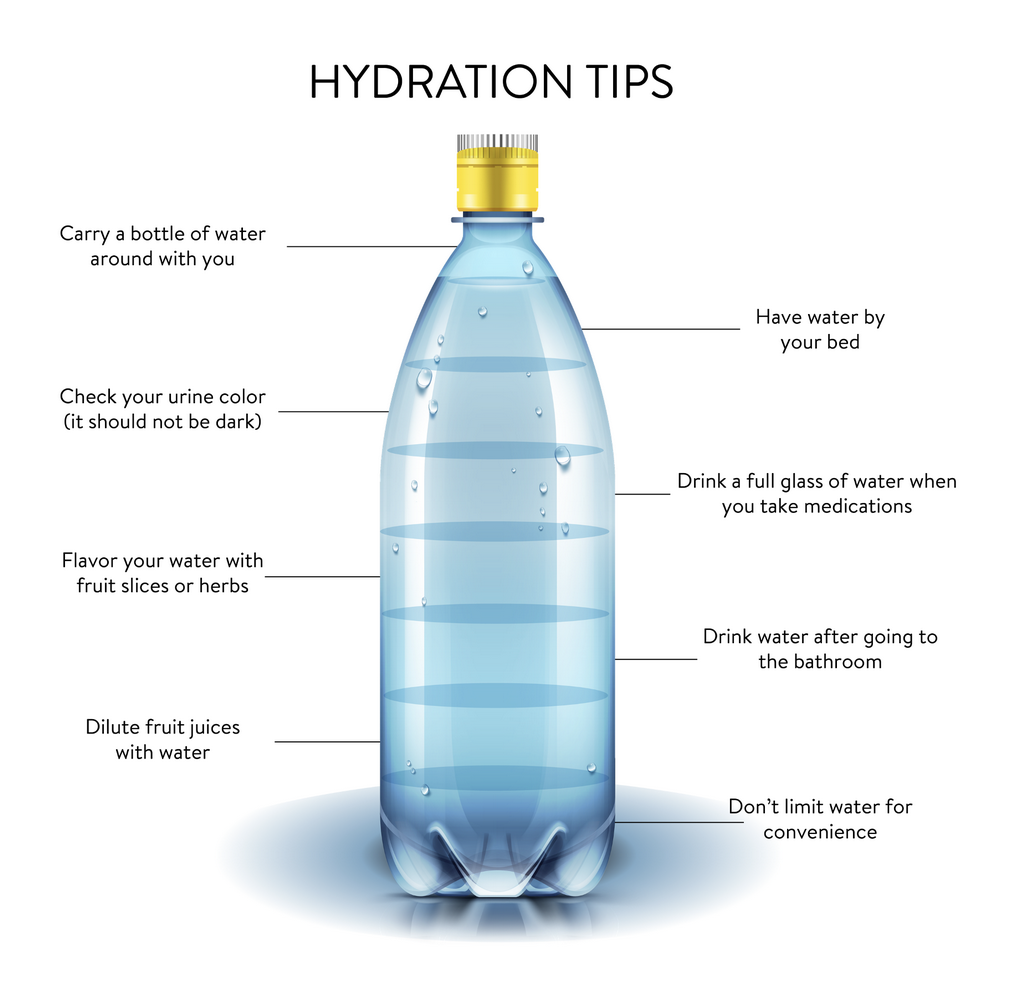 How can physical activity support immune health?
Regular exercise improves immune function, including supporting greater antibody or cell-mediated response to vaccinations, particularly in older adults. Studies have shown that exercise increases the effectiveness of vaccines due to impacting antibody production.6,7 If an older adult doesn't already have a regular exercise routine, it's recommended they should consistently incorporate some form of aerobic exercise such as a brisk walk at least 2-3 times per week in the weeks and months prior to vaccination.
Even for older adults who are not in a formal exercise program, lifestyle physical activity is still important. Research has noted that exercise immediately before or after vaccination augments the immune response.
By raising awareness of good nutrition, hydration, and physical activity to support immune health, active aging professionals can help those they counsel stay strong and healthy. The following resources may be helpful.
Nutrition Resources
References
Arensberg MB. Physical activity and good nutrition important vaccine response. International Council on Active Aging. Published February 2021. Accessed June 20, 2021. An article published in Human,vaccinations particularly in older adults.
Bresnahan KA et al. Undernutrition, the Acute Phase Response to Infection, and Its Effects on Micronutrient Status Indicators. Adv Nutr 2014(5):702-711.
Klemm S. Support your health with nutrition. Academy of Nutrition and Dietetics website. Published December 9, 2019. Reviewed April 2020. Accessed June 20, 2021.
Abbott Nutrition Health Institute. Good nutrition helps support your immune health. Accessed June 20, 2021.
Harvard T.H. Chan School of Public Health. Healthy beverage guidelines. Accessed June 20, 2021.
Edwards KM, Booy R. Effects of exercise on vaccine-induced immune responses. Hum Vaccin Immunother. 2013;9(4):907-910. doi:10.4161/hv.23365
Pascoe AR, Fiatarone Singh MA, Edwards KM. The effects of exercise on vaccination responses: a review of chronic and acute exercise interventions in humans. Brain Behav Immun. 2014;39:33-41. doi:10.1016/j.bbi.2013.10.003
At Abbott, we're committed to helping people live their best possible life through the power of health. For more than 130 years, we've brought new products and technologies to the world -- in nutrition, diagnostics, medical devices and branded generic pharmaceuticals -- that create more possibilities for more people at all stages of life. Today, 109,000 of us are working to help people live not just longer, but better, in the more than 160 countries we serve.
Share